Silverado has become the go-to partner in Southern Arizona to conduct HIPAA Security Risk Assessments. 
We help healthcare practices and related businesses meet their requirements for HIPAA Security Risk Assessments and Meaningful Use standards.
Because Silverado has a longstanding history with the healthcare industry, we understand the requirements of a practice.  This experience has afforded us the unique opportunity to become the premier partner for those in the healthcare field.
In order to support our healthcare clients, all Silverado engineers and technicians are trained in compliance.  We prioritize the security of your practice and your data.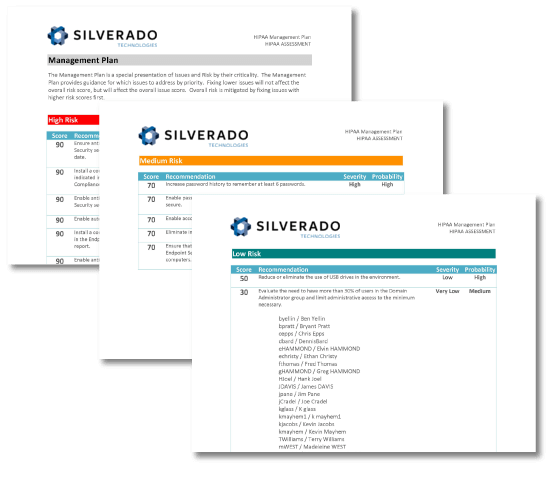 Our assessment is completed with a state-of-the-art scanning tool combined with onsite interviews conducted by our technical experts.  Once completed, you will receive a comprehensive report documenting our analysis.  We also provide guidance on any corrective actions needed to address areas of concern with HIPAA compliance.
Contact us today to schedule your HIPAA Security Risk Assessment.
I have to say I know I'm in good hands working with the Silverado team. I know Jason is on top of things with my company & he takes care of me very well. He is also very familiar with my type of work, network & setup. I also take his advice all the time when it comes to any IT work. That's why I have my 2 business with Silverado.
Silverado has been responsive and helpful whenever I contacted them for specialized assistance. Their customer service is the best in Tucson, finding an uncommon balance between friendly/approachable and highly technical/knowledgeable.
We count on Silverado to help out our clients with satellite offices in Tucson. They are responsive, highly skilled, and consistently go above and beyond. I own an IT business in Phoenix where having trusted partners is critical to the success of my business. No satellite city is more critical than Tucson and Silverado is amazing for us. Thank you!